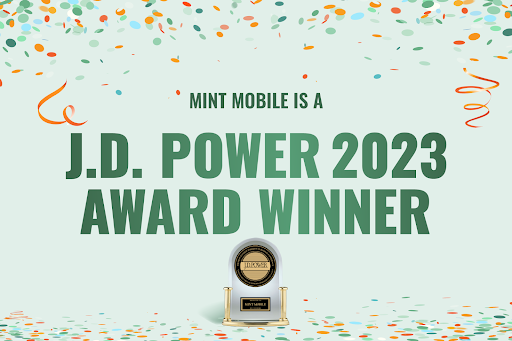 Mint Mobile started with a pretty simple philosophy: customers come first. Wireless service is no longer a luxury; it's a necessary utility. We saw an opportunity to provide premium wireless to people at an affordable price without sacrificing quality, customer service or flexibility. Now, in our first year of eligibility, J.D. Power has awarded us Best Purchase Experience among Value MVNOs.*
Why the J.D. Power award matters
J.D. Power is a global leader in consumer insights, data and analytics. The brand was established in 1968 by J.D. "Dave" Power III with an initial focus on the automotive industry, but it didn't take long for it to become the leader in understanding consumer behavior across multiple segments. With the help of AI, advanced algorithmic modeling and good old fashioned surveys, J.D. Power provides invaluable data to help companies transform for the better. Recognition by J.D. Power is a highly respected indicator of satisfaction (kinda like the Michelin star for restaurants) and shows just how dedicated we are to customer satisfaction. Mint Mobile was put up against other wireless providers offering the same services we do, and we ranked highest overall.
So why Mint Mobile? It seems the main thing customers are concerned about when it comes to wireless is value…specifically low prices.* So it makes sense that they'd like us because saving you more of your own money is kind of our whole thing. Ian Greenblatt, managing director at J.D. Power, said "Companies like Mint Mobile, a new brand in an established industry, have pushed to the top of the rankings with creative price-driven marketing. They are not just pulling in new customers from their competitors but are also keeping them satisfied by focusing on transparent and reduced pricing."*
Mint Mobile is an online-only brand, so we don't have salespeople or brick-and-mortar stores. This minimizes our overhead, and we pass those savings on to our customers. We also…
So, it's easy to see why our customers enjoy the experience here.
Ready to go through the #1 Purchase Experience among Value MVNOs for yourself? Check your coverage to see if Mint Mobile will work for you. Then take a look at our New Customer Offer and start planning what you're going to do with all the money you're about to save.

*https://www.jdpower.com/business/press-releases/2023-us-wireless-purchase-experience-studies-volume-1