Plans & Services
Is the 4G LTE data per month or across all the months in my plan?
Per month, baby! So stream away—it comes back.  For example, if you buy a 12-Month, 12GB Mint plan, you will get 12GB of 4G LTE data (with unlimited data at lower speeds) each month, for the 12 months.
Any unused data does not roll over, though. It resets at the end of your data cycle.
How do I switch my plan?
Easily! This is all done via Account Management or with our fancy and useful app (available for iOS and Android). Open up Account Management and head to Manage Plan. Here you'll choose whatever you need more or less of – months or data.
Need more data? Then you can choose to switch your plan immediately, at your next monthly reset or at the end of our plan. The choice is yours. You will just pay the additional cost to upgrade.
Need more or less months? You'll be switching at the end of your current plan. Unfortunately, we can't switch you around mid-plan. Sorry.
Need less data? Choose it as your next plan.
What is the return process?
If you decide that your Mint Mobile plan is not right for you within 7 days of activation, the return process is easy. Simply complete the Request Refund form. You will receive a confirmation email once your refund has been successfully processed. You are not required to physically return the SIM kit. Refunds are processed within 10 business days.
How much data do I get in my plan?
Short answer: You choose.
Long answer: All Mint Mobile plans allow you to choose how much 4G LTE data you need each month—3GB, 8GB or 12GB. When you hit this limit, we don't cut you off, we just slow it down.
If you need more data then you can do a one-time data purchase of either 1GB or 3GB. Or if you find you are hitting the limit each month, simply upgrade your plan to the next data level at any time.
Need help figuring out how much juice you can get out of your monthly data check out our blog.
I've finished my 4G LTE data before the end of my cycle, can I buy more?
Hungry for data? Why wait? You can purchase more data via two ways:
Message UPDATA to 6700 and follow the instructions. You will need to have money in your Mint Mobile wallet to make this purchase.
Add more 4G LTE data by logging into your account at mintmobile.com/login
I need more 4G LTE data each month, can I change my plan?
Yes! You you can upgrade your 4G LTE data size mid-cycle by paying the difference between your current plan and the upgraded plan. You are also able to set the change to occur when your current plan ends. You cannot switch down data, though.
When can I change the length of my plan?
Change can be hard. For instance, you can't change the duration of your current plan once it has started. You can, however, set up a new duration to automatically renew at the end of your current plan by logging into your account at mintmobile.com/login.
I purchased a 3-month plan at an introductory price. What will the cost of my plan be when I renew?
We've given new customers our best value pricing – our 12 month price – on our 3 month plans. After you've tried our service and know what data plan is right for you, then you can choose your plan length based on how clever you want to get.
Mint Tip: You can lock in our introductory 3-month pricing by renewing for 12 months.
Log into your account at mintmobile.com/login anytime to view our available plans and pricing.
What is Mint Mobile's refund policy?
All of our full plans and Starter Kits feature a 7-Day Money Back Guarantee for all purchases made on mintmobile.com or using the app. You can cancel your service for any reason within 7-days of activation and we will refund you 100% of the purchase price, including any fees and taxes. Shipping is not refunded.
Got an unused SIM card? We'll honor returns for these within 10 days of purchase. It must be returned in its original unopened packaging and the SIM card must not be activated (condition counts—we aren't called Mint for nothing).
What are the fees and taxes associated with my Mint Mobile plan?
At Mint, we don't hide our fees in our plans—we break them out so you know exactly what you are paying.
Subtotal: Cost of the plan chosen.
Regulatory Recovery Fee: The Regulatory Recovery Fee is assessed to help recover Mint Mobile's administrative costs to comply with various federal and state programs. Please refer to our Terms and Conditions for additional details.
Telecom Tax: This includes any federal, state, county, city, or district taxes that are applicable to the retail sale of prepaid wireless communications services in your zip code.
Shipping & Handling: Depends on shipping option chosen at checkout.
NY PSCS: The Public Safety Communications Surcharge is a state-imposed surcharge collected on the retail sale of prepaid wireless communications services in the state of New York. Click here
CA MTS Surcharge: Between 1/1/2016 and 12/31/2018, the Prepaid Mobile Telephony Services (MTS) Surcharge was collected from California-based consumers on the purchase of prepaid wireless service. It included a combination of certain taxes, fees, and other surcharges, as mandated by the state of California. Effective 1/1/2019, it is no longer applicable. Please click here for more info on the replacement of the Prepaid MTS Surcharge.
What happens when I port my number out. Do you block my phone?
If the phone is still locked, it will not be able to be used on competitors services. If unlocked, it can be used on any service for which it has the appropriate hardware (eg. some devices are GSM or CDMA only).
If I want to use my own phone, how do I know if it is unlocked?
If your phone is GSM and accepts a SIM card, you may try to borrow a friends SIM card on another network and insert it into your current phone to see if it will make a phone call.  If you do not have a SIM card to test, you may visit a local retailer to help determine if your phone is unlocked. Once you have determined that your phone is unlocked, you will only need to purchase a SIM card and airtime to begin using our service once you have programmed it.
Is the 3 Month 8GB plan the only plan on promotion?
Yep, the 3 Month 8GB is the only plan discounted for this promotion, but hey it's an awesome deal! Who doesn't love 3 months free!
Can I purchase more than one plan at a time?
Yes! Purchase up to 4 rate plans per order. Give it your friends and family – share the best deal of the year!
I'm currently locked in a contract with my current provider. Can I buy it now and activate it later?
Sure you can! You have up to 45 days from your plan purchase date to activate your SIM card. If you need more time then please contact our support team at support@mintmobile.com or call us at 213-372-7777.
I just purchased a plan, can I still get the promotional offer?
No problem. If you have recently purchased a plan at our full price (within 7 days prior to promo start), contact our support team at support@mintmobile.com or 213-372-7777 and they'll get you sorted out.
Can I get this deal if I purchase a Starter Kit?
Yes! After you've taken us out for a test drive, you can purchase our promo deal in our free app. But this is a limited time offer so get it before it ends!
Do all plans include Mobile Hotspot?
Yep. All plans include the Mobile Hotspot feature at no extra charge. The data you use just pulls from your monthly 4G LTE amount.  All you need is a hotspot capable phone.
Can I keep my phone number when I renew?
Of course! When you renew you keep that Mint number – it is officially all yours. Take it out for a nice steak dinner, why don't ya?
How long does the Buy 3 Months, Get 3 Months free promotion go for?
It's only available for a limited time so don't wait. You have until September 9 to lock in this deal.
Can existing Mint customers get the Buy 3 Months, Get 3 Months deal?
Unfortunately, this deal is for new activations only. But for a limited time only, existing Mint customers can now earn $30 for every successful referral made from now till October 27th. Get referring. It will be easy to convince friends with this deal. 
What will my price be after my Buy 3 Get 3 plan period?
After your promo plan is up you can still get an awesome deal by signing onto 3-,6- or 12-month plan. Mint Tip: lock in our best monthly rate by renewing for 12 months starting at $15 per month! Check our plans at www.mintmobile.com/plans/. 
I want to get a phone and a plan – can I still get this offer?
We currently have a separate set of offers if you're interested in purchasing an iPhone. However, these offers are a separate promotion and unfortunately, you can not combine offers. To check out all our deals, just go here.
Where can I see that my free 3-month has been applied to my account?
In Account Management, on your home screen. It will show a 3 month 8GB plan as your 'Next Plan' with Recharge Paid. This means that at the end of your first 3 months you will automatically move into another 3 month 8GB plan. You can also check that the credit has been applied by looking in Transaction History, you will see a line item for 'B3G3 promo credit.'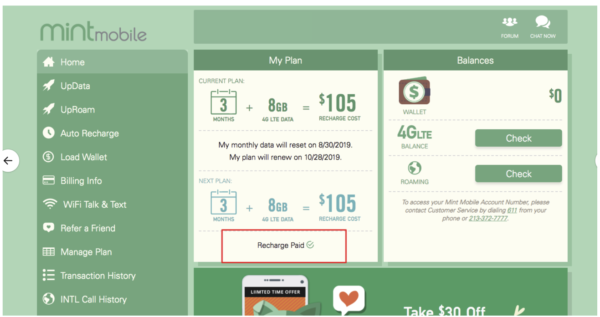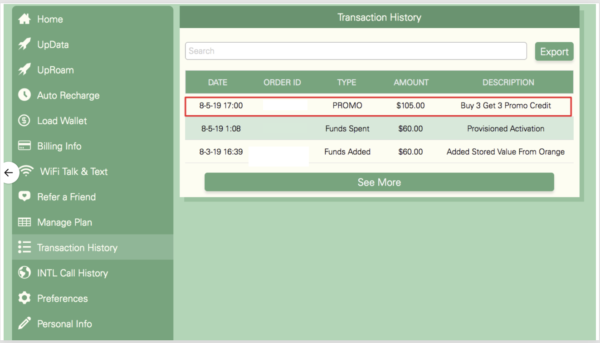 I just activated my account, but I can't see my 3 free months?
Don't worry, it's coming. Your 3 free months will be applied to your account within 24 hours after activation. You will see this as 'Next Plan' in your home screen of Account Management.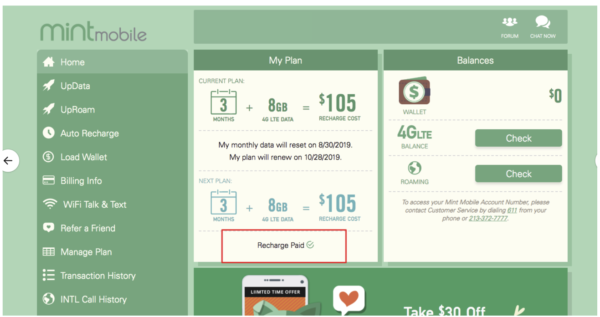 What should I do if the credit isn't applied in online Account Management or the Mint Mobile app within 24 hours?
Contact our customer service team by calling 213-372-7777 or emailing, support@mintmobile.com.