Hacks to Stop YouTube from Draining Your Data
Fun as it is to go down a click hole of unboxing videos and epic dad save compilations, streaming YouTube videos can really exhaust your data. In fact, YouTube is one of the top data drainer apps next to Netflix and Spotify. No big deal if you have unlimited data right? Wrong, cause no unlimited plan is truly unlimited. Mind blown? See this post for more.
But don't fret if you're not on an unlimited plan, you wise wireless spender, you. We've got a few ways to optimize your streaming that won't affect your obsession with calorie challenge videos.
Change Your YouTube Settings
The first thing you should do is modify your YouTube settings with the Play HD on Wifi only setting in the app. This setting makes YouTube stream in standard quality, saving you big time on data usage. This will also help it load faster. If you're an HD quality snob, just turn it back on when you're on WiFi.
Here's How To Optimize Your YouTube Data Usage:
Step 1
Open the YouTube app, tap the Options button in the top right corner, then tap Settings.
Step 2
Tap General and enable Play HD on Wi-Fi only and Upload over Wi-Fi only. Disable Autoplay next video.
That's literally all you have to do. Or you can just…
Download Your Videos For Later
If you're a YouTube Red user, take advantage of your subscription and download full videos and playlists to avoid using mobile data altogether and get more value for your money.
Saving data on YouTube will allow you to save it for those other desperate times, like when you just have to stream the latest dropped album from your fav DJ.
Watch on Wifi
To make sure you are only watching YouTube videos on WiFi, you can turn off cellular data for the YouTube app in your phone settings. Instructions vary by phone.
Reduce the Streaming Quality
Step 1
Click the 3 dots in the top right corner of the video you want to download.
Step 2
Tap Quality to adjust the streaming quality of your videos. The lower the quality, the less data it will use!
Not sure which data plan is right for you? Click the button below.
Our work here is done.

---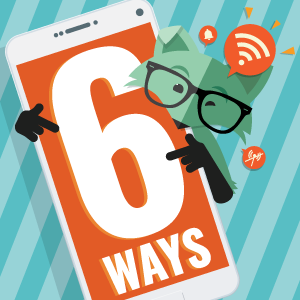 Looking for more tips on how to save data? Read more.