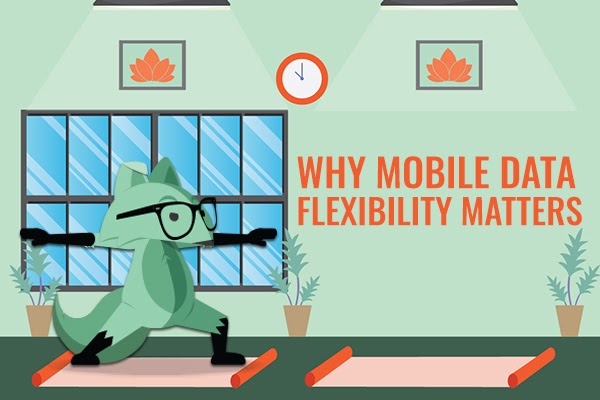 When it comes to shopping for a wireless plan, there are probably a bunch of features you've heard thrown around, but no other feature is touted as frequently as unlimited* data. If you listened to Big Wireless, you might start to believe that everyone needs an unlimited data phone plan. But while unlimited data is right for some people, what's better for most people is the ability to control your mobile data. That's where Mint Mobile comes in.
At Mint, we believe in being fully transparent about the amount of data you're using. If you use less data, we'll tell you. If you use more, we'll tell you that, too. That way, you can pick the wireless plan that's right for you and your lifestyle, the way you might pick the right outfit for the day ahead, or the right Ryan Reynolds movie for the occasion.
But why do we do this? That's simple: to save you money. Knowing the right data plan for you can save you tons of money in the long run since you won't be paying more for extra data you don't need. Plus, it empowers you to make decisions about your own mobile data, rather than letting a convoluted contract lock you into one data plan forever.
What big wireless thinks about your mobile data vs what has changed
As we mentioned earlier, if you listened to Big Wireless (which you should never do), you might think having an unlimited data phone plan is a necessity. To them, data is one-size-fits-all and unlimited is their chosen size. Many of these carriers will push an unlimited data phone plan on you, even if it isn't right for your lifestyle. Maybe you're always on Wi-Fi. Maybe you never stream anything, in which case we're jealous of your ability not to waste time. In cases like these, you don't need unlimited data and you could be saving a lot more on your plan.
That's why we offer more options when it comes to data plans and letting you know your data usage. Plus we love to share ways that will help you conserve your data usage, like hopping on Wi-Fi. Why does using Wi-Fi matter? Check out our article on the difference between Wi-Fi and cellular data and learn more about Wi-Fi calling.
Still confused why it's good to know your data usage? Think of it this way: when you're cooking a meal, do you just buy as many ingredients as you can? Even though you know you won't eat all of that food and most of it will be left to its own devices in the back of your fridge? No, because that's a huge waste of money. You cook the amount of food you know you'll eat. It should be the same with your mobile data—why have a ton of unused data left over each month that you're not using? It'll just rot in the fridge…metaphorically speaking, of course.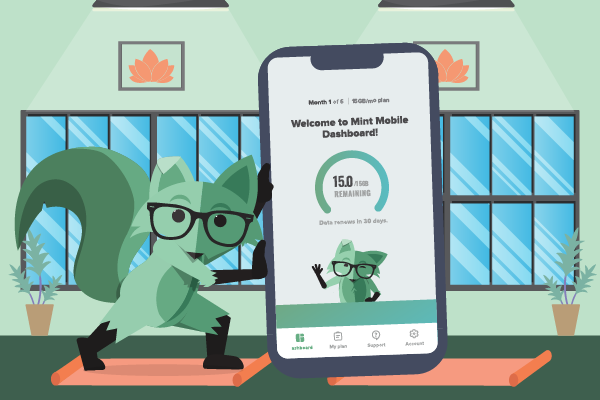 What makes us able to offer control over your mobile data
Now you might be asking…how exactly do we offer all of this flexibility when it comes to your data? Good question. Here's how we do it:
We offer different data allotments. Whether 5GB, 15GB, 20GB or Unlimited* is right for you, we have data plans for every lifestyle. 
You can update your plan if your needs change. Maybe your job changed and suddenly you're on the road without access to Wi-Fi a lot. Or maybe it's reversed, and now you're at home always on Wi-Fi. We make it flexible to update your plan to a different one if you find that your lifestyle has completely changed, or another plan just seems like it would work better for you. When you renew, you can change to a higher or lower data allotment, or change to a higher data allotment at any time. You're not stuck in an iron-clad contract that makes changing impossible.
We offer data add-ons. Maybe you know you'll need some extra data that month, or that you might need a hotspot for a bit, or something comes up unexpectedly and you need more data. Our data add-ons make it easy to have the features you need exactly when you need them and add-ons apply immediately.
Our app keeps you up-to-date. As we mentioned earlier, you can update your plan based on your data usage, and the best way to know your data usage is by using our app, where we tell you exactly how much you're using each cycle. When it comes time to renew, this helps you choose the best plan for you.
Our Mint Family option makes picking the right data plan for each person easy. Unlike with some carriers, where you have to worry about Aunt Susan using up all of your data for the month, our family phone plans lets you have your own data allotment while still maintaining multiple lines, so you don't need to share a pool of data with the rest of your family (like other wireless companies force you to do). And you can choose the best data allotments for each member of the family, like a higher data allotment for Aunt Susan.
We offer resources that let you learn more about your plan. Beyond our app literally telling you how much you can save and features that encourage less data usage, we also offer a bunch of articles on how much data you need for your wireless plan, or even choosing the right plan for singles or choosing the right plan for seniors. Plus a bunch of other articles that will make you more knowledgeable about your wireless plan.
Become the master of your destiny mobile data
Now that you know just how great data flexibility is, why not check and see if any of our plans fit the kind of data you need? (Spoiler alert: at least one of them will.) You can also use our handy-dandy savings quiz to find out how much you'll save by switching to Mint Mobile and which wireless plan is your perfect match.

*New activation & upfront payment for 3-month plan req'd. Taxes & fees extra. Addt'l restrictions apply. Unlimited customers using >40GB/mo will experience lower speeds. Videos stream at ~480p. See terms.