How Much Data Do I Need On My Wireless Phone Plan?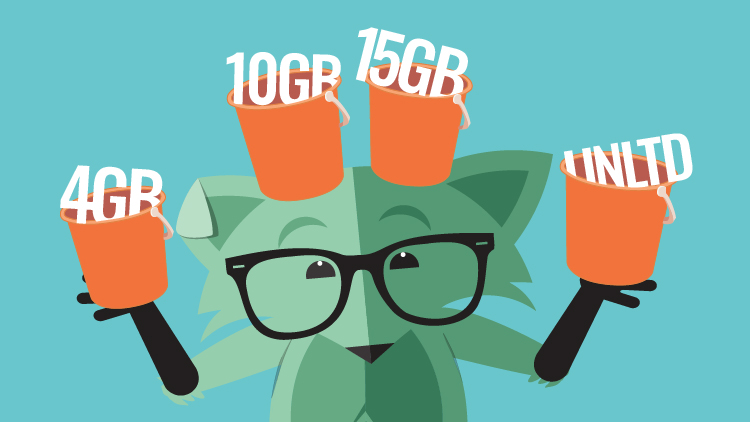 When it comes to choosing a new wireless plan, you might have a lot of questions! We get it. You might ask, "do I need unlimited data? How do I know how many gigabytes (GB) I will need to support my phone habits? How much am I using now? What is a gigabyte?"
With all these questions it may seem like the easiest option is to choose an unlimited data plan with an unlimited price tag. But hold up! This might mean you are overpaying for data you are not even using. Numerous studies have shown that the average smartphone customer in America uses less than 5GB of data per month.
Here at Mint, we structure our plans with your needs in mind! Before we get into what type of data fox you are, let's start with a quick lesson on gigabytes (GB).
Most plans are measured in gigabytes (GB) per month. There are 1000 kilobytes (KB) in a megabyte (MB) and 1000 MB in a GB, often referred to as "a gig" of data.
Now you know the terminology, here is a breakdown for typical activities that use data:
Amount of Data Used Per Activity
1 email – text only: 3 KB – 20 KB
1 email – with photo attachment: 350 KB
1 email – with MS Office attachment: 300 KB
1 web page: 150 KB – 1.5 MB
1 minute of streaming music: 500 KB
Social media update with photo: 500 KB
Hi-res digital photo upload/download: 1 MB
1 minute of streaming video: 2 MB – 5 MB
1 app/game/song download: 3 MB – 4 MB
How does that relate to a monthly plan?
To give you an idea about how much data you really f*!ing need a month (we said foxing), we broke down our three data plans below . Are you a Wi-Fi Fox, a Busy Fox, or a Streamer Fox? Find out below!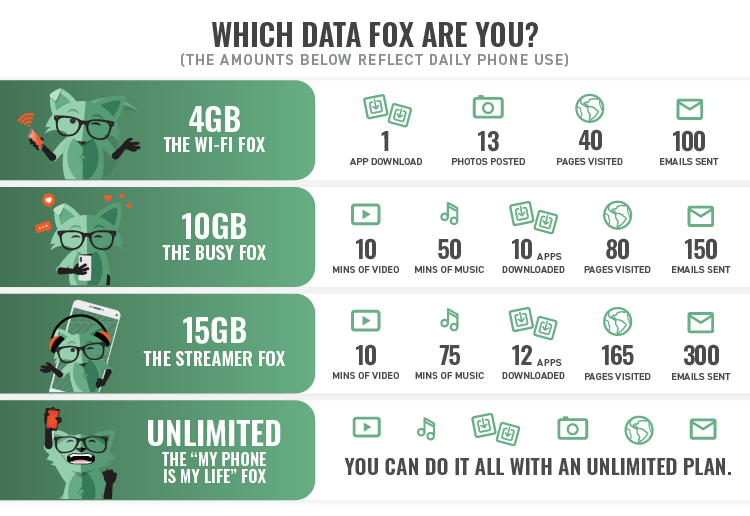 4GB: The Wi-Fi Fox
If you always find a way to stay connected to Wi-Fi (meaning you automatically connect at home, work, your friend's house, your favorite clothing store – basically anywhere there is Wi-Fi, you are connected to it!), a 4GB plan may be exactly what you're looking for. You can even set up your apps to work only when connected to Wi-Fi. If your primary mobile usage includes sending emails and checking social media, 4GB is the way to go.
Sound like you? In one day, a Wi-Fi Fox will be able to download 1 app, post about 13 photos, visit 40 web pages, and send around 100 emails.
10GB: The Busy Fox
You're the type of person who always has your phone in hand, whether you're actively updating your followers on social media or you just need Google maps to get everywhere. If you find yourself always on the go, then 4GB might not be enough for your busy schedule.
If you consider yourself a Busy Fox, with the 10GB plan you'll be able to stream about 10 minutes of video, 50 minutes of music, download 10 apps, visit 80 web pages, and send about 150 emails in one day.
15GB: The Streamer Fox
Sometimes Wi-Fi fails you and you don't want to give up your tunes. It's okay, we've been there. However, streaming music, video and podcasts do tend to consume a large amount of data. Streaming audio alone, you could easily use between 4GB and 6GB a month.
Mint Mobile's plans help you choose which fox you want to be!
If you're still not sure, we suggest starting with our 4GB plan. That way, if you need more data, you can upgrade to the next-highest data amount at any time. Or if you think you will need more data for just a short period of time you can add additional data (1GB or 4GB). Mint hack: you never have to worry about getting charged overages. We don't do that.
Here are a few Mint Hacks to get the most out of your data
We want to make sure our customers get the most out of their plan (and pay less for wireless). Here are some Mint hacks to get more out of your data:
Find out how many GB of data you use each month by checking your usage online with your current carrier. Track how you consume data on a daily basis! You'll learn how much data you use to download apps, stream content, surf the web, and more.
One way to lessen your data usage is to download your podcasts and music onto your phone before you leave your commonly used Wi-Fi networks at home, work, or school.
Be like the Wi-Fi Fox and connect to your home, work, friends and anywhere you are regularly to avoid high data usage on the do.
Which data fox do you relate to the most? There has never been a better time to break away from expensive data plans and customize your data to exactly what you need.
Happy saving,