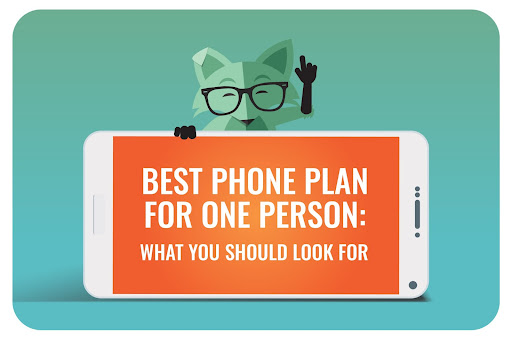 Maybe you're a one-person wolf pack. Maybe you recently left your family's plan. Maybe you split with your S.O. and they were the primary account holder. Whatever the reason, you might be asking: how do I pick the best phone plan for one person? It can be tough for single planners to find the right plan with all of the features they need for their lifestyle, but don't worry – we're here to help. Here are a few things to consider as you find the right plan for a party of one.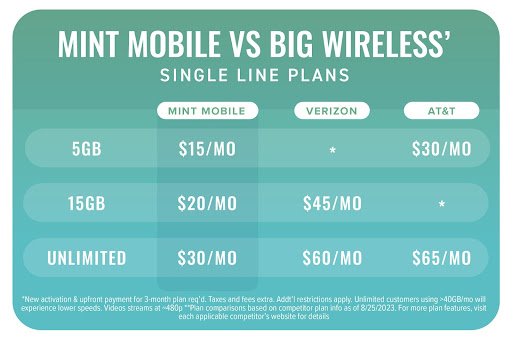 How much is a phone bill for one person?
The price of a single-person phone plan will vary from carrier to carrier (check out our blog on average phone bills for more). Unfortunately, a lot of carriers will only give you their best price if you have multiple lines on one account. But not at Mint – you'll get our best price (y'know, $15/mo when you purchase a 3-month plan) even if you're flying solo. (That whole keeping the price the same thing is kind of our jam). Overall, you'll want to find a provider that offers great service you need, not unnecessary perks to hike up their bills.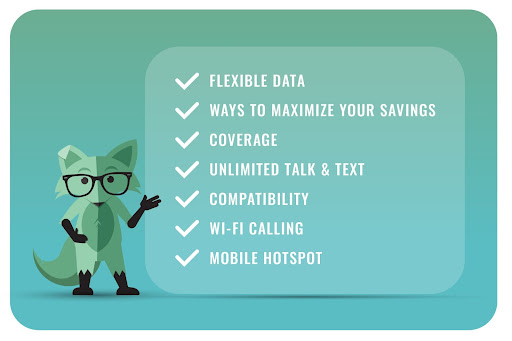 What features to look for in single line phone plans
Here are a few things to look for when considering the best phone plan for one person:
Flexible data
Before you hop into a new plan, take the time to determine how much data you need. While unlimited data is great, it isn't one-size-fits-all; if you're always on Wi-Fi, for example, you might need less data than you think. That's why flexible data is so important. Flexible data plans mean you only pay for the data you need. And if you run out, there won't be overage charges.  This plan flexibility allows you to control how much you spend whenever it's renewal time. Dial up your data plan if you know you're going on vacation next month. Dial it back if your routine keeps you tethered to Wi-Fi. It's that easy. If you're using more data than you would like, here are some tips for how to cut your data usage. 
Ways to maximize your savings
At Mint, we're all about savings-maxxing, which is why we offer wireless in bulk. Like paper towels and peanut butter, buying wireless in bulk can help you save money. For example, at Mint, when you sign up for our 3-month new customer offer, you get to try our service at the lowest possible monthly price for your first 3 months. After the first 3 months, you can continue the savings by renewing with a 3, 6, or 12-month plan. If you go for a 12-month plan, you get to lock in your savings at the same low rate we offer new customers. The savings get better the more months you buy. 
Coverage
Make sure you're covered at the places that matter most to you, like your home or your favorite coffee shop. We're on the nation's largest 5G network, so y'know, that might take the guesswork out of checking your coverage.
Unlimited Talk & Text
When you need to chat with your BFF about all the latest Bravo drama or check in on Grandma's bingo winnings at the retirement home, you don't want to be worrying about your minutes. That's why Mint offers Unlimited Talk & Text on all plans.
Compatibility
Sometimes you wanna ditch your carrier, not your phone. That's why it's great when a carrier lets you bring your own phone, which saves you even more money by not forcing you to buy a new one. All you need is an unlocked phone and to determine whether or not your phone is compatible with Mint's network. If you're not sure if your phone is unlocked, check with your current carrier to find out. If your phone is still locked, they can let you know what you might need to do to unlock itWant a new phone after all? Check out if the single line you're signing up for comes with any device bundles. 
Wi-Fi Calling
Sometimes you're in a rural area without service. Sometimes you're in an underground rave…also without service. Wherever you are, sometimes you'll hit dead zones with weak signals. Enter: Wi-Fi Calling. Wi-Fi Calling can enable you to call and text whenever you're in a place with not-so-great coverage, which is an important feature to have.
Mobile Hotspot
At one of those coffee shops that says they've got no Wi-Fi because "people need to talk to each other?" It happens. Mobile hotspot can give you internet access when grumpy baristas refuse to, and it's included free on all Mint plans.* You can even share the (internet connection) love with a friend or two. Because flying solo doesn't always mean flying solo.
Mint Mobile offers the best phone plan for one person
All those features listed above? Yep, we've got 'em. At Mint, we believe wireless is a necessary utility, not a luxury, which is why we offer premium wireless for just $15/mo.** It's just kind of how we work. We prefer doing things like increasing your data without increasing our prices instead of doing whatever it is that big wireless does. We believe in flexible data you can change when you need to, an app that makes life easy, and the ability to stay single but also make a Mint Family with your BFF if you want to (you only need 2 lines to start one, after all).So, ready to join the movemint? Tap the button below and find your perfect wireless match. And, as we mentioned earlier, take advantage of our new customer offer and try us out at our best price.

Originally published December 2021; Updated October 2023.
* Requires compatible device
**New activation & upfront payment for 3-month plan req'd. Taxes & fees extra. Addt'l restrictions apply. See mintmobile.com for full terms.