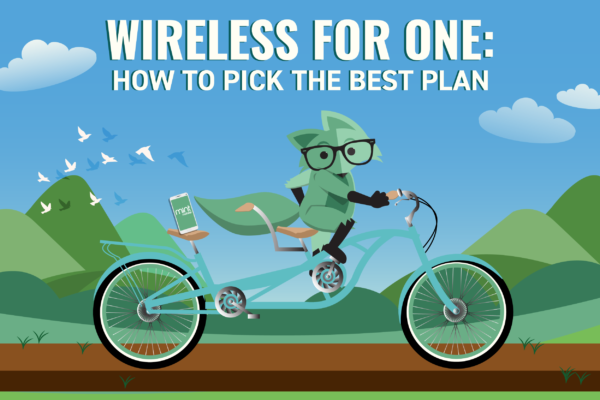 How do you pick the best phone plan for one person? We get it. It's tough out there for us single planners. Most other wireless companies only offer their best value once you add people on your plan. But what if you want an affordable phone plan because you deserve it? At Mint, you'll get the best prices on wireless whether you're a single planner or have a Mint family.
To find the right one person phone plan for you, you'll want to determine what features are most important to your lifestyle, compare monthly data rates across different carriers, and assess each carrier's user experience and support teams. If you're thinking of making the switch, here's a list of questions you should consider before opting for a phone plan for one person. 
Is it cheaper to be on a phone plan for one person?
Short answer: It is with Mint. That's not always the case with other carriers. Many offer discounts when you have multiple people (or phone lines) on your account (a multi-line plan) but those who just need one line often are faced with high phone plan price options. So, unless you like relying on your streaming-obsessed housemates to stick to their data caps and pay on time, that single line plan freedom could be a perfect fit for you. 
Like we said before, Mint offers affordable phone plans for one person from the start. For just $15/month you can try us out for three months, no strings attached. Since we introduced the concept of buying wireless in bulk, renewing and upgrading your plan is hassle-free—and totally under your control. 
How much data do I really need?
Not so fun fact: you're likely overpaying for your data. The one-size-fits-all approach that many carriers take when they offer those shiny unlimited plans ignores the fact that the average person only uses 5-6 GB per month. And if you work from home, you likely use even less because you're connected to Wi-Fi. For a more in-depth look into mobile data, read How Many MB in a GB and How Much Do I Need?.
With Mint, our flexible data plans mean you only pay for the data you need. And if you run out, we don't charge overages. Data speeds will slow, but you can add on extra data at any time. More on that below.
This plan flexibility allows you to control how much you spend whenever it's renewal time. Dial up your data plan if you know you're going on vacation next month. Dial it back if your routine keeps you tethered to Wi-Fi. It's that easy. If you're using more data than you would like, here are some tips for how to cut your data usage.
To find out which Mint data plan is right for you to start, take our Plan Quiz.
What features are most important to my lifestyle?
Still rocking the good ol' home button on your iPhone? Whether you want to keep your old phone or upgrade to something new, determining what features matter most to you is an important step in choosing the right carrier and plan for you. 
For instance, all of our phone plans for one person include unlimited talk and text, free mobile hotspot (10GB cap on our Unlimited Plan), Wi-Fi calling and texting and high speed 5G data.  
How will I manage my account?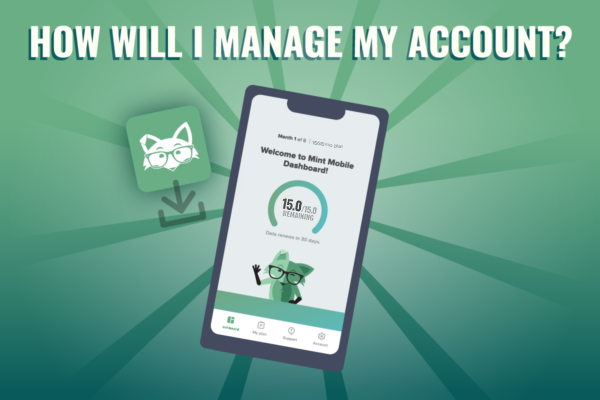 Transparency is the most important factor in choosing and managing your one person phone plan. Being your own wireless boss is a great feeling, and the Mint Mobile app puts you in the driver's seat. Your data usage, payment options, and profile analytics are all there, because unlike big wireless companies that make things difficult, we don't hate you. 
Here are some helpful things to know before making the switch to a one person phone plan:
3-Month New Customer Offer
Mint offers our lowest price for your first three months. Once your intro plan is up, you can renew on a 3, 6 or 12-month plan, whichever works best for you. We'll remind you before your service is up with a friendly email or two…spam free. To keep your low intro offer price, renew onto the 12-month plan to maximize your savings. 
Data Add-ons
No more data? No problem. You can purchase more data with a data-add on. Data is applied immediately after purchase—extra gigabytes of data expire at the end of your 30-day cycle with no rollover. If you're cutting it close or not using all of your data, we'll send you an email to help you find the right size plan for you – we're cool like that. And you can use that data add-on as a mobile hotspot too.
Auto Renewal
Continue saving money without the hassle of manually renewing your plan at the end of your plan cycle. 
Wi-Fi Calling
Reduce your data consumption by enabling Wi-Fi Calling, a plan feature that allows you to call and text with Wi-Fi. 
That's a lot to remember, but the Mint Mobile app makes it easy to manage everything in one place. Finding hot, single plans in your area shouldn't be a hair-pulling process. We have all the tools you need to determine the best course of action for your wireless needs. Chin up.
Summing up how to pick the best phone plan for one person
Determine what features are most important to your lifestyle
Important factors to consider: 
What's the coverage like in your area?
Does this plan have the features I need?
Is this plan within my budget?
Does this carrier have an easy to manage account system?
Does this carrier have a strong care team?
Pick the carrier that is the most transparent about costs
Be on top of your data usage
Ready to find the best one person phone plan for you?  Perhaps start your search with the  #1 ranked plan by U.S. News and World Report.

*New activation & upfront payment for 3-month plan req'd. Taxes & fees extra. Addt'l restrictions apply. Unlimited customers using >40GB/mo will experience lower speeds. Videos stream at ~480p. See terms.