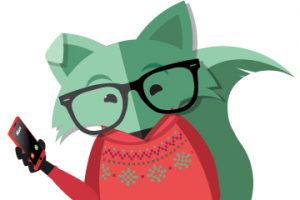 Season's greetings, holiday foxes! In case you need a helping paw getting through your gift list this year, the Mint Mobile elves are offering up an awesome promotion**. As mentioned previously, Mint is the best choice for all your wireless needs over the holidays and beyond.
In case those 7 foxtastic reasons weren't enough, you really need to check out what these clever Mint customers are saying in their reviews of our products and services.
Stetson Doggett, cell phone guru, calls our $20 for three months of service promotion "one of the best Black Friday deals out there." Doggett explains how new Mint Mobile customers can benefit from this great promo, noting it is easy to use and telling customers about our online-only business model.
Doggett also refers to us as "the Costco of mobile" because of our buy in bulk business model–the more you buy the more you save! He tells us that his favorite feature is the personal hotspot, which is completely free and available to all users. He is completely f*!ing right (we said foxing!) – thanks for the kind words, Stetson.
We don't mean to brag…but we're going to brag just a little.
GregglesTV, a stellar source for daily tech news and reviews, says that he is "really impressed" with us and that our "crazy, amazing deal" – $20 for three months of mobile and data service – is awesome, especially considering the "ton of other features" you'll have at your fingertips. GregglesTV notes all the tech specs we need to get you up and running, such as your own unlocked, GSM (SIM card) phone and the free international calls to Mexico and Canada. GregglesTV calls our service "excellent" and loves our HD calls, fast data, and, of course, the huge savings! Watch his review here:
We're blushing with holiday cheer – thanks, GregglesTV! We think you're f*!ing awesome, too (we said foxing)!
Want to know how easy it is to switch to Mint?
This vid has one of our customers walking you through what her online account looks like and all the features you can expect as a Mint Mobile customer. She loves all our instructional videos that are designed to make your life as easy as possible. So many things in life are a pain in the neck, but your wireless plan shouldn't be one of them. Check out tit out.
There you have it – the internet clearly digs our foxy cuteness and Mint's great wireless coverage. Plus, think of it this way – if you don't feel like leaving your foxhole and heading out into the holiday crowds, you can switch to Mint Mobile service quickly and easily from anywhere you use the internet. No pesky lines to wait in while you grab a cup of hot cocoa and make the most clever wireless decision ever!
**Unfortunately our holiday promo ended 1/1/2019