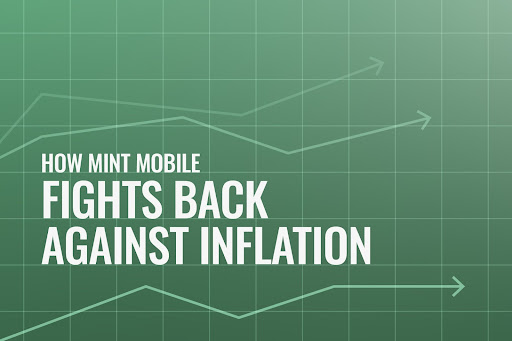 We know one word you're probably tired of hearing (or reading): inflation. Whether it's the average cost of eggs going up by 186% from 2016 to today* or the price of a movie ticket jumping from $8.65 in 2016** to $11.75 today*** (that's 36%), people are feeling it everywhere, and we want to help.
We started Mint Mobile with the customer in mind, and just like our prices, that hasn't changed. Doing right by our subscribers isn't just good business, it's the right thing to do. We just wish more wireless companies felt the same. Instead, they keep raising their already absurd monthly rates to squeeze more money out of their customers. Mint does the opposite: more value, same industry-leading price.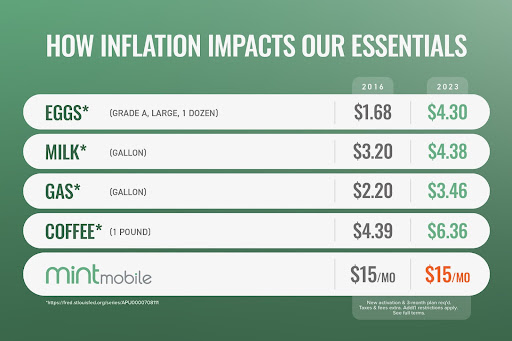 Wireless service isn't a luxury, it's a necessary utility. You can skip going to the movies or stop eating out, but you can't get rid of your cell phone. While other wireless companies may leverage this info to maximize their profits, Mint does things differently. Helping our subscribers save money is at the core of everything we do.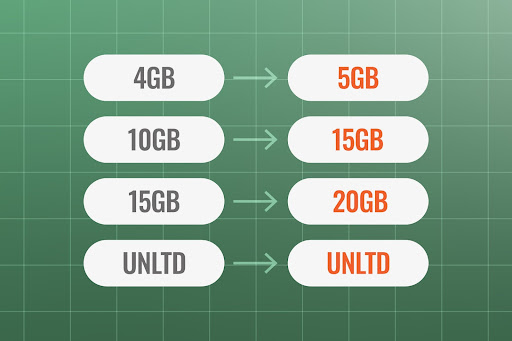 Mint Mobile increases the value of our plans, not the prices
Raising prices without upgrading the service is the norm in this industry, so naturally, we do the opposite. We've increased the data amounts on all of our plans three times; the prices, however, have stayed the same. When we see an opportunity (or three) to provide more for our subscribers without charging them more, we take it.  
How is Mint Mobile able to keep our wireless service so affordable?
In short: "We don't hate you." We don't raise prices, sacrifice quality or take advantage of our customers because there are plenty of companies who already do that. We're here to take what's wrong with that model and make it right.
Why aren't other companies doing this? That's a great question that we can only speculate on. All we know is that here at Mint, if we see an opportunity to provide more value to our subscribers, we take it…because we actually value our subscribers.
We've actually lowered our prices…for a limited time
When we saw prices going up, we knew we had to counter with something. We can't control the price of gas or eggs, but we can help you save on wireless. And thus, our newest promo was born. Starting June 12, 2023, all of our 3-month plans will be just $15/month** for a limited time…even our Unlimited Plan†. So if you're tired of Verizon charging you more for "perks" and telling you it's a good deal, now is the ideal time to switch to Mint Mobile. We think you'll like it here.

*https://fred.stlouisfed.org/series/APU0000708111
**New activation & upfront payment for 3-month plan req'd. Taxes & fees extra. Addt'l restrictions apply. See mintmobile.com for full terms.
†Data speeds reduced during network congestion or after monthly allotment of 5G and/or 4G LTE access. Certain data-intensive activities including online gaming, file downloads/uploads, and video streaming, may be limited and/or inaccessible on network after 40GB on Unlimited Plan. Videos stream at ~480p.