Mint Plans, Now With More Byte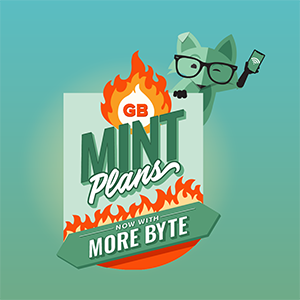 We've got some hot news. The data limit on every Mint plan is increased…for free.
We'll repeat.
We're giving you more data, but keeping plan prices right where they are. Why? Because we're all about you.
If you're already a Mint customer, keep an eye on your Mint account to watch that free* data go up. If you're not, well, it seems like we just gave you a pretty solid reason to become one.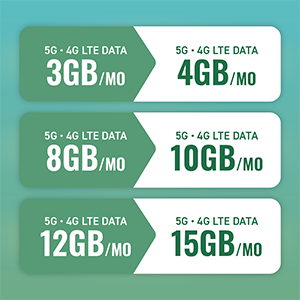 What Can You Do With All That Extra Data?
Amount of Data Used Per Activity
1 email (no attachments) 20KB
1 email (with standard attachments) 300KB
1 min. of surfing the web 250KB (15MB/hr.)
1 song downloaded 4MB
1 photo upload to social media 5MB
1 min. of streaming standard-definition video 11.7MB (700MB/hr.)
1 min. of streaming high-definition video 41.7MB (2500MB/hr.)
1 min. of streaming 4K video 97.5MB (5850MB/hr.)
1 min. of online games 200KB (12MB/hr.)
How Much Data Do You Need a Month?
To give you an idea about how much data you really f*!ing need a month (we said foxing), we broke down our three data plans below. Are you a Wi-Fi Fox, a Busy Fox, or a Streamer Fox? Find out below.
4GB: The Wi-Fi Fox
If you always find a way to stay connected to Wi-Fi (meaning you automatically connect at home, work, your friend's house, your favorite clothing store – basically anywhere there is Wi-Fi, you are connected to it), a 4GB plan may be exactly what you're looking for. You can even set up your apps to work only when connected to Wi-Fi. If your primary mobile usage includes sending emails and checking social media, 4GB is the way to go.
Sound like you? In one month, for instance, with your 4GB plan you can send and receive 1000 emails, surf the web for 100 hours, post on social media 150 times with photos, stream 2 hours of standard definition video, and spend 15 hours online gaming.
10GB: The Busy Fox
You're the type of person who always has your phone in hand, whether you're actively updating your followers on social media or you just need Google maps to get everywhere. If you find yourself always on the go, then 4GB might not be enough for your busy schedule.
If you consider yourself a Busy Fox, with the 10 GB plan you'll be able to send and receive 2500 emails, surf the web for 200 hours, post on social media 300 times with photos, stream 3 hours of standard definition video, stream 1 hour of high definition video, and spend 40 hours online gaming.
15GB: The Streamer Fox
Sometimes Wi-Fi fails you and you don't want to give up your tunes. It's okay, we've been there. However, streaming music, video and podcasts do tend to consume a large amount of data. Streaming audio alone, you could easily use between 4GB and 6GB a month.
It's more byte for your buck,

*Add'l charges, usage, speed & other restrictions may apply. Taxes and fees extra. Free data upgrades take effect immediately; no further customer action required. See mintmobile.com for full details.