We knew this day would come. That kid of yours is all grown up and wants their own cell phone. And let's be honest, you want them to have one so you can reach them when you need to. What you don't want is an incredibly high cell phone bill added to your monthly expenses. So how do you pick the best cell phone plan for your kid? The choice might be easier than it seems.
Tips when choosing a phone plan for your kids
What's your kid going to do with a phone?
The first thing to take into consideration is what features and services your kid is going to need on their cell phone. Just talk & text so they can let you know when they're ready to be picked up from school? Or enough high-speed data to browse college websites and watch math tutorials on YouTube? Nowadays, the mobile data amount can be the biggest factor when it comes to the price of an individual cell phone plan. Mobile data is how cell phones access social media, certain games and streaming services when not connected to Wi-Fi, so you'll want to make sure your kid has enough GB each month.
Save more by getting a plan with little or no data
Many wireless providers will push your family into a shared unlimited data plan, but if your kid is going to spend most of their screen time at home connected to Wi-Fi, they might not need much data at all. This allows you to start them off on a low-priced plan with minimal high-speed data (ahem, like our 4GB plan for just $15/mo*), instead of overpaying for unlimited. If they ever run out of data for the month, you can easily add more through the Mint Mobile app, or upgrade their plan at any time.
Get a higher data plan with no overages
Maybe your kid is a teenager who spends a fair amount of time streaming, gaming and keeping up with friends across social media. If you want them to be able to stay connected on the go, you can get them a higher data plan. With Mint Mobile, we offer 10GB and 15GB data plans too, which are great for mobile hotspot users, like if your kid wants to connect a tablet or laptop to 5G. Since you pay in advance, you never have to worry about overages. Or you can go with our Unlimited plan which starts at just $30/mo**.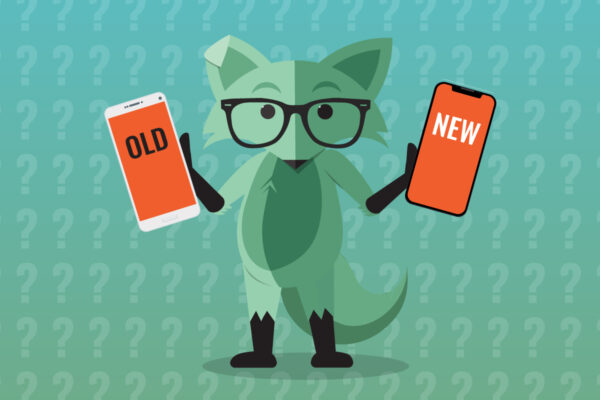 Does your kid need a new phone?
Now of course your kid probably wants the latest and greatest device, but is that what they need? It all depends. A new phone is a big responsibility, so you may be hesitant to put a top-of-the-line device in the hands of someone who still falls out of a tree once a week. Fortunately, there are affordable, low-risk options for your kid's first phone that should be satisfactory for both parties.
Hand down your old phone
The easiest option that most parents will go with when giving their kid their first cell phone will be passing down their old phone. Today's smartphones are built to last, so when you upgrade to the latest device for yourself it might make the most sense to let your old phone live on in your kid's hands/pocket/backpack. As long as you took good care of it, of course. And you'll want to make sure the carrier you choose allows you to BYOP (bring your own phone), like we do.
Pick up an affordable new phone
Don't have an extra phone lying around? No worries. Maybe your kid has a birthday coming up or has just been really helpful around the house, so you want to treat them to a brand new device. Many brands sell unlocked phones directly from their sites for you to use with whichever cell phone plan you choose. You can also purchase your phone directly from your wireless carrier. We offer phone deals on our site to fit every budget, and they even come with Mint Mobile service. TIP: Our friends at OnePlus make affordable Android phones with all the features any kid could need.
Get them a pre-owned or refurbished phone
As a final option, you can always purchase a pre-owned phone if you still want to save some money. We have a partnership with Swappa that includes a 3-month plan when you purchase a newish phone from their site. Apple and Samsung both offer certified refurbished devices for sale directly from their websites as well. There are also thousands of used phones for sale online, but be aware that many of those are sold as-is, with no warranty.
What's your current budget?
Speaking of budget, one of the main things you're probably concerned about is the cost of another cell phone bill. Depending on your current family phone plan, adding an additional line for your kid might be the best option, pricewise. But if adding another line requires extending your contract, you may not want to make that kind of commitment. Of course if you didn't have a contract (ahem, like with Mint Mobile) you could add your kid's line to your Mint Family plan for three months at a time…without affecting the other lines on your plan at all.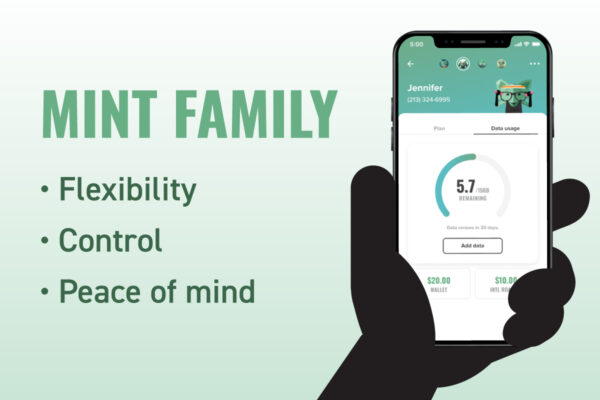 What's the deal with Mint Family?
Mint Family offers you flexibility, control and peace of mind when it comes to managing a cell phone plan for your child, with plans starting at just $15/mo*** per line. Plus, you only need 2 lines to create a Mint Family (so you + your kid are all it takes to start saving).
Mint Family features include:
Coverage on the nation's largest 5G network (so your kid should have signal pretty much anywhere)
Individual data plans with no overages (give your kid the GB they need without affecting the other lines on your plan)
Absurdly low prices (add your kid to your plan for just $15/mo)
The ability to approve family members' requests for additional data
Access to all family members' data usage in the Mint Mobile app (see if your kid is making the most of their new phone plan)
The ability to lock in our lowest rates while paying every 3 months (this won't affect your kid so much but we thought you'd appreciate the flexibility)
What if the wireless needs for my kids change?
That's where our flexibility comes into play. When your kid is ready to get their very first cell phone, adding a line to your existing Mint Family takes just a few moments with the Mint Mobile app. And when they get older and need more high speed data? Upgrading their data amount can be done instantly by just paying the difference, also in the Mint Mobile app. And since we don't do contracts, you won't be extending one when you add their line or make any of these plan changes.
Now that you know what to consider when shopping for your kid's cell phone plan, it's time to compare your options. We recommend Mint Mobile, obviously. And not just for the kiddo. Of course you can just buy them a single-line Mint Mobile plan for as low as $15/mo and call it a day, but why not save a ton of money and manage your whole family's cell phone plan like a boss with Mint Family? You can even have our Activation Support specialists handle bringing all of your lines to Mint at no extra cost. Then you can tell all your kid's friends about how you have matching cell phone plans. It won't embarrass them at all, they'll think it's cool.

*New activation & upfront payment for 3-month plan req'd. Taxes & fees extra. Renew for 12 months to lock in savings. Addt'l restrictions apply. See mintmobile.com for full terms.
**New activation & upfront payment for 3-month plan req'd. Taxes & fees extra. Unlimited customers using >35GB/mo will experience lower speeds. Videos stream at ~480p. Addt'l restrictions apply. See mintmobile.com for full terms***New activation & upfront payment for 3-month plan req'd. Taxes & fees extra. Up to 4 addt'l lines. Auto-Renew req'd for Primary Account holder. Renew for 12 months to lock in savings. Addt'l restrictions apply. See mintmobile.com for full terms.