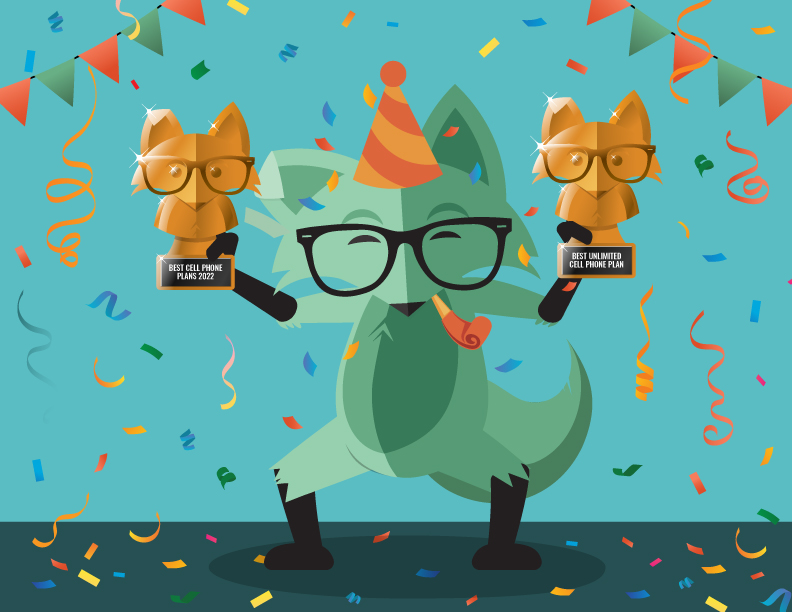 Long-time Mint Mobile subscribers know we've got the best cell phone plans around, but U.S. News & World Report made it official by giving us two awards for having one of the best unlimited* cell phone plans. That includes a win for having the No. 1 Best Unlimited Cell Phone Plan of 2022, plus an award for our 10GB data plan. We've also been named the Most Versatile Prepaid Plan thanks to our 35GB of high-speed data, 5GB of mobile hotspot data, unlimited talk and text nationwide and free calls to our neighbors in Mexico and Canada. Phew, that's a lot of good stuff.
But we're not newbies to this whole award thing. This is our second year earning a bunch of badges from U.S. News & World Report for our cell phone plans. Next year we're making it a three-peat.
What makes our plan one of the best unlimited cell phone plans?
Intrigued by our U.S. News & World Report award-winning unlimited plan? U.S. News gave us top marks for our low-cost and short plan periods (we're not into those very controlling Big Wireless contracts). With our Unlimited plan, you'll also get unlimited talk and text, 35GB of 5G • 4G LTE data and service that runs on the largest 5G network in the nation. Definitely gold star- worthy.
What does our 10GB data plan come with?
Think a 10GB data plan is more your speed? U.S. News & World Report gave our 10GB data plan high marks for its low cost (just $20/mo…seriously), as well as having all the goods: unlimited talk and text and a mobile hotspot included in your 10GB.
Why the U.S. News rankings matter
We're not letting all of these accolades get to our heads (or tails). But you might be asking: why are these awards important? Well, if you're looking for a reliable mobile virtual network operator that offers an award-winning prepaid plan, senior cell phone plans, the best unlimited cell phone plans or a family phone plan, these awards show you've come to the right place—and that, no matter what kind of plan you need, one of Mint Mobile's cell phone plans is definitely right for you.
Awards not enough to sway you? We've also got some pretty f*!-ing great Mint Mobile reviews (we said foxing) from real people who are loving our wireless. We even have a free 7-day trial so you can sample our service and see what kind of plan is right for you without any kind of long-term commitment (no judgment). You don't even have to interrupt your current service to test it out. And, as U.S. News pointed out, we also have a sweet bring your own phone program that helps you pack in the savings.
Usually we're pretty anti-bandwagon, but this is one you probably want to jump on. Ready to see why we're award-winning? Check out our cell phone plans now.

*New activation & upfront payment for 3-month plan req'd. Taxes & fees extra. Addt'l restrictions apply. Unlimited customers using >35GB/mo will experience lower speeds. Videos stream at ~480p. See terms.