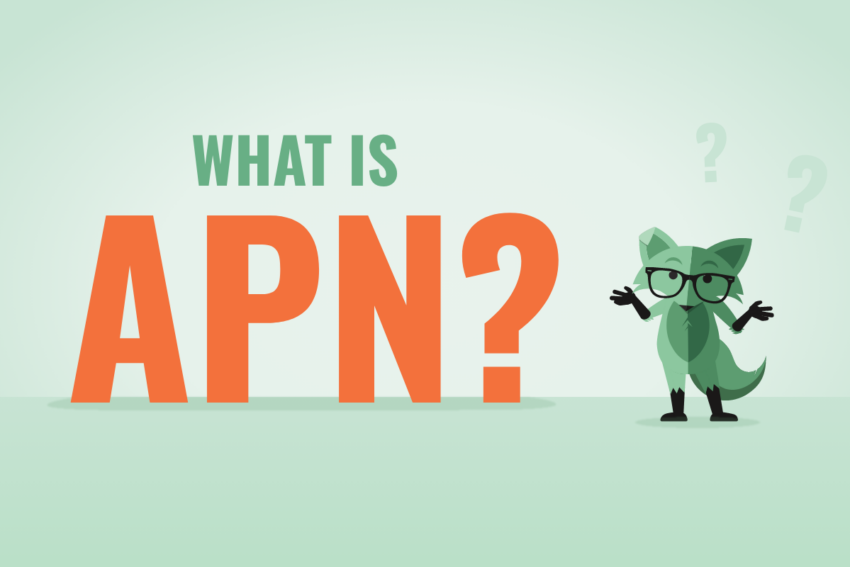 While playing around with your phone, you may have run into the term APN settings. So what the f*! is APN? (we said fox.)
These settings allow your phone to interface with your wireless provider. They are usually used when your wireless provider is an MVNO (mobile virtual network operator)…you know, like us. Any time you try to use data, your MVNO is reading the APN settings to determine security measures, what network you need to connect to and more. These settings also allow you to connect to the internet and use MMS picture messaging.
What does APN stand for?
Access Point Name. That's easy enough.
How does an APN work?
Access point names have two components:

A network identifier
An operator identifier
The first determines the gateway (which refers to a piece of hardware or software that allows data to flow from one network to another) your phone connects to while the second determines which mobile network operator is associated with that gateway.
Your phone reads your settings to set up a connection between you and your carrier's cellular network and the internet. Your carrier then reads these settings to generate an IP address, connecting you to a secure gateway. In effect, an APN is a gateway between a GSM network and the internet.
Why would I need to change APN settings?
The reason you may need to change your settings is because you might need to connect to a different network depending on your phone or because you're either setting up a new device for the first time or popping in a SIM card for the first time.
However, for most devices, you won't need to touch your settings at all.
What are the most important APN settings?
There are four important APN settings:
APN: Access Point Name aka what we were just talking about
APN type: There are four of these: generic, SUPL (secure user plane location), MMS (multimedia messaging service) and WAP (wireless application protocol–not to be confused with the Cardi B/Megan Thee Stallion song)

Generic, like its name may suggest, is a default setting used by many carriers
SUPL sets up a secure connection with a server in your operator's network
MMS allows you to send multimedia messages–e.g., ones with pictures
WAP allows you to access info over mobile wireless networks

MMSC: Multimedia Messaging Service Center–this is required for most MVNOs
Proxy: Some carriers use this to create a proxy between the internet and your network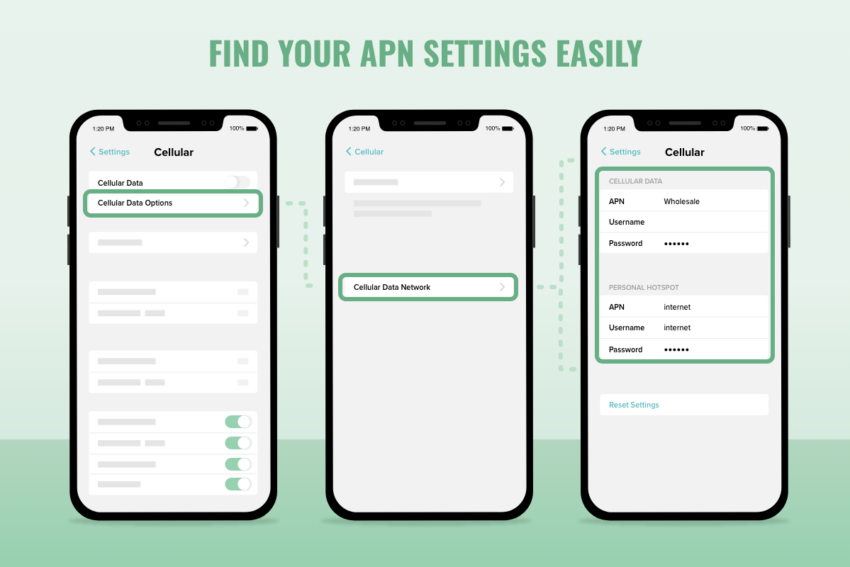 How can I check my APN settings?
Finding your settings will depend on your phone and the directions below may differ slightly based on your device.
Here's how to find them on an iPhone:

Go to Settings
Tap Cellular or Mobile Data
Select Cellular Data Options or Mobile Data Options
Tap Cellular Network or Mobile Data Network
Here's how to find them on an Android:

Open Settings
Tap Mobile Networks
Tap Access Point Names
Select the Access Point you want to check
How do I change my APN?
If you're on Mint and have an Android device, here's how to configure your APN settings to work with Mint. You can also find these instructions under our phone set-up page.
Note: you don't have to change any of these settings if you have an iPhone running on iOS 12 or above.
Select Settings (located within Apps or the pull-down notifications tray).
Scroll down to the Network Connections menu section.
Select the More Networks icon.
Ensure that the Mobile Data is enabled.
Select the Access Point Names or APN menu option.
Note: If your device is pre-configured with an APN labeled as fast.t-mobile.com, it is likely that this will work sufficiently on your device. However, to guarantee proper setup, especially on older devices, we recommend you configure your APN using the instructions below.
Select the plus sign to add a new Access Point Name.
Enter the following information into the fields:
Cellular Data

Name – Mint
APN – Wholesale
Proxy – (leave blank)
Port – (leave blank)
Username & Password – (leave blank)
Server – (leave blank)
MMS
MMSC – http://wholesale.mmsmvno.com/mms/wapenc
MMS Proxy – (leave blank)
MMS Port – 8080
MCC – 310
MNC – 260
Authentication Type – (leave blank)
APN Type – default,supl,mms,ia
APN Protocol – IPv4/IPv6
APN Roaming Protocol – IPv4
8. Select Save and return to Access Point Names.
9. Ensure that the new Access Point Name option that you created is selected.
We're fin with APN
Now you know all there is to know about APN–but if you still need help, why not check out our handy how-to video featuring our telegenic mascot on configuring yours?