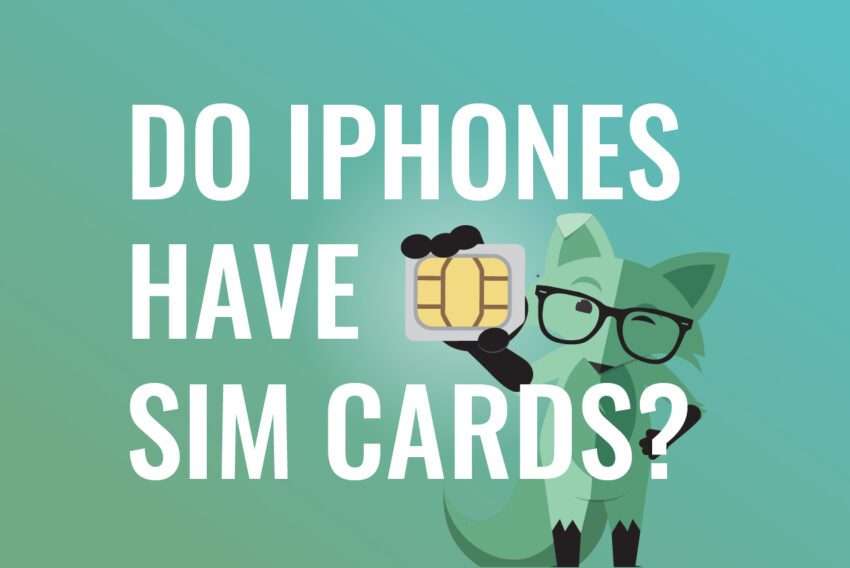 Like all wireless devices, iPhones have SIM cards of varying sizes. That's because SIM cards are absolutely necessary to use mobile services on your phone if they run on the GSM (no clue what that is? Find out more with our blog on GSM vs CDMA). A GSM phone without a SIM card would be like peanut butter without peanuts. It just wouldn't work.
As for what size you need, well that depends on your iPhone model. In fact, you may not need a SIM card at all if you have an eSIM iPhone, where the SIM is already built in. You can find that information, and a whole lot more about iPhones and SIM cards, by reading on.
What is a SIM card for iPhones?
iPhones use the same type of SIM cards that other phones use. Either they have a physical SIM card or an eSIM, also known as an embedded SIM, which is a completely virtual SIM card. Unlike other SIM cards, you can't physically touch an eSIM. Most of today's iPhone models use Nano SIM cards (these have been in use since iPhone 5). But the newer models, starting with iPhone 11, also allow for eSIM cards. Then, in 2022, Apple released iPhone 14, which is an eSIM-only phone. That means no SIM card slot at all. To learn even more about all things SIM, check out our blog covering the eternal questions: "what is a SIM card?" and "what is an eSIM?"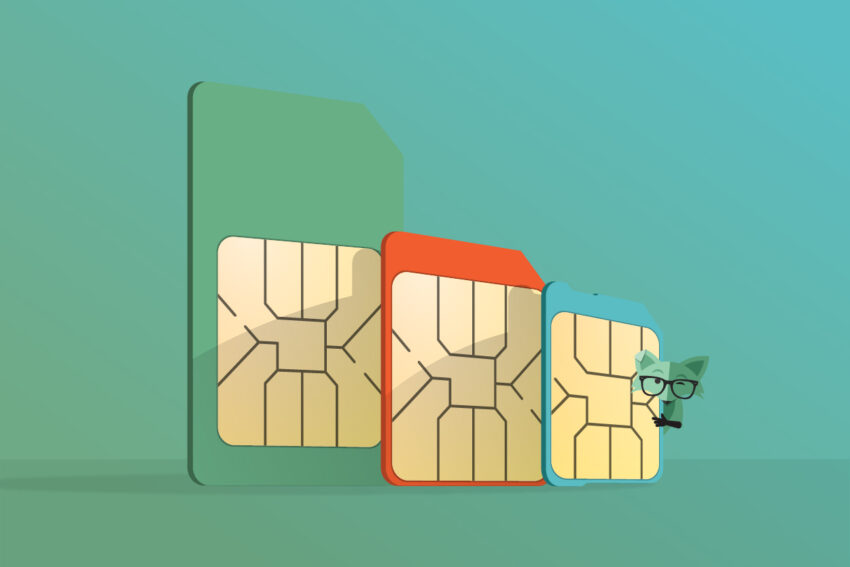 Which SIM card for each iPhone?
Wondering which iPhone SIM card goes with which iPhone? Here's an iPhone SIM card chart of the different iPhone SIM card sizes so you know which size you need if you're swapping to a new SIM card. If you're switching SIM cards, some providers even provide 3-in-1 SIM cards with their plans so you'll for sure have the right size you need. Just saying.
| iPhone Model | SIM card size |
| --- | --- |
| The OG iPhone SIM card size | Full-size SIM |
| iPhone 3 SIM card size | Full-size SIM |
| iPhone 4 SIM card size | Micro SIM |
| iPhone 5 SIM card size | Nano SIM |
| iPhone 6 SIM card size | Nano SIM |
| iPhone 7 SIM card size | Nano SIM |
| iPhone 8 SIM card size | Nano SIM |
| iPhone X SIM card size | Nano SIM & eSIM |
| iPhone 11 SIM card size | Nano SIM & eSIM |
| iPhone 12 SIM card size | Nano SIM & eSIM |
| iPhone 13 SIM card size | Nano SIM & eSIM |
| iPhone 14 SIM card size | eSIM only |
As you might expect, a full-size SIM is the biggest of all of the SIM cards (its measurements are 85 mm x 53 mm) and nano SIM cards are the smallest (coming in at just 12.3 mm x 8.8 mm). eSIM cards, as mentioned above, are completely virtual SIM cards, so please don't ask us to try and measure them. Want to learn more about SIM card sizes and what this all means? Go ahead, click that blue link.
How to remove a SIM card from iPhone
If you ever need to take out your iPhone's SIM card (ahem, like when you're switching mobile providers), here's a general guideline–although it usually will depend on which model you have.

First look for the SIM tray on your phone. For most iPhones, this will be on the right-hand side. For an older iPhone, look for the SIM tray on the top.
After you've found it, use something like a paperclip or a SIM Ejector Tool to push it in gently. We give a pretty nice one via our free trials.
It will release and you'll be able to remove the SIM card from the tray.
Voila–put in the new SIM card of your choice and call someone/text someone/give all of your contacts fun emojis next to their names. Your old SIM card can be recycled (usually your wireless provider can do that for you).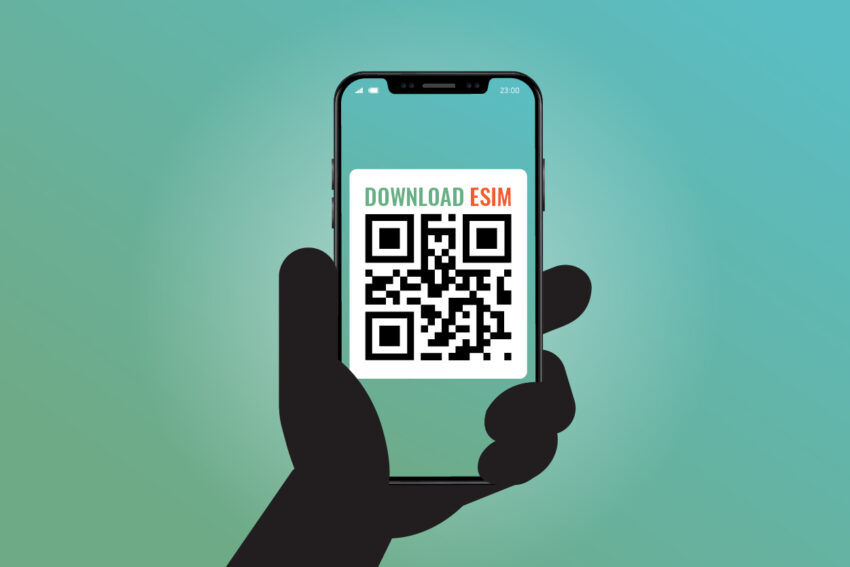 Is my iPhone eSIM- compatible?
Newer generations of iPhones are eSIM compatible, beginning with the iPhone 11. For a minute there, iPhones accepted both physical SIM cards and eSIM, but with the iPhone 14, they made the jump to eSIM-only. In addition to activation being almost instantaneous, eSIM is also extremely secure thanks to its built-in security features…and the fact that it can't be stolen and cloned. Less plastic and no physical shipping makes eSIM better for the environment too, and not to mention the dual SIM capabilities. Actually, let's mention it.
Do iPhones have dual SIM?
The iPhone 11 was the first eSIM iPhone and it supports "dual SIM," where you can have one phone line on a physical SIM card and another phone line on an eSIM. The iPhone 12 also supports dual SIM in this way. The iPhone 13 eSIM took it a step further by offering dual-SIM compatibility with two eSIM cards or a physical SIM card and an eSIM. Then the eSIM-only iPhone 14 came about, which doesn't accept physical SIM cards at all. But, like the iPhone 13, it does support dual SIM with two eSIM cards (find out more about this via our article all about dual SIM). Because why choose?
How to activate eSIM on iPhone
Curious how to add an eSIM to your iPhone? It's all done digitally with just a few taps on the screen. In most cases, your wireless carrier will provide a QR code for you to scan to download and install an eSIM onto your iPhone. That's right–it's as easy as getting a restaurant's menu up on your phone.
What data is stored on iPhone SIM cards?
Unlike other devices, the data stored on an iPhone SIM card is actually a little different from most SIM cards. iPhone SIM cards don't store things like your contacts and other user data, unlike other SIM cards that usually also have your contacts and that data stored. That's because user data is actually stored in your iPhone's storage or on the iCloud. This makes it even easier to switch SIM cards when you have an iPhone, because all of your data is right there still in your device. Check out what else other SIM cards store via our guide on what is stored on a SIM card.
Can you buy a new SIM card for the iPhone?
F*! yeah you can (we said fox). If you're looking to switch to a wireless carrier that, say, offers premium wireless for just $15/mo and has a fun, green fox mascot, part of the process to make the switch involves getting a new SIM card (or eSIM). Being able to buy a new SIM card also makes it so you can bring your own phone if you switch carriers, for an extra side of savings. Of course, to switch SIM cards, you'll need an unlocked phone, so make sure to read our unlocked phone guide to find out what the f*! that is (we said fox again). Or if you'd rather just get a new phone to go with that new SIM card, like iPhone 14 so you can fully experience eSIM for yourself, take a look at our incredible phone deals.
As mentioned above, because iPhones store important info like your contacts and all of the pictures of your dog on the iCloud or in storage, it makes swapping SIM cards even easier because all that data will still be on your phone. For more information on what happens during this process, check out our guide on what happens after you switch SIM cards.

First published: April 2022, updated November 2022