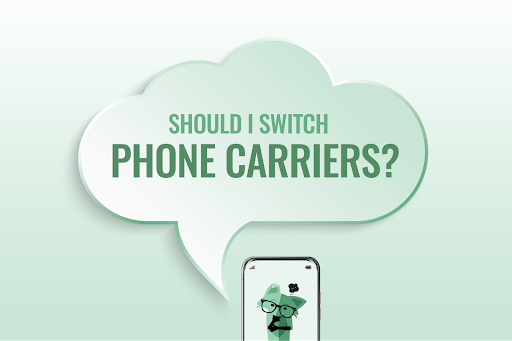 Maybe you got your latest phone bill and noticed the price has gone up yet again. Maybe you've been sitting on hold with your carrier's customer service line for so long, you've found yourself typing "should I switch phone carriers" into Google. Whatever the reason is, there are a ton of reasons why you might consider switching your phone carrier (and things to keep in mind before you do it) that we'll dive into below.
Reasons for switching phone carriers
1. You're paying way more than you want to be paying
Well, you're definitely not alone. According to a recent Whistleout report, cell service costs have increased over 36% since 2013 and the average cell phone bill has gone up 4% year over year for the past 9 years.*
Or maybe your rates haven't gone up, but your current carrier doesn't let you easily dial down to a plan with a lower data amount if you want. Flexible plans help you save money by allowing you to only pay for the data you actually need; and if your needs change, you can always change your plan.
Or you could be paying more due to "perks" offered by your current carrier, like streaming services. Well, using a more affordable carrier and signing up for the services you actually want makes way more foxing sense.
2. You've been with your current carrier for a while
A lot can change over the years. Suddenly people are telling you to part your hair differently, or wear gigantic jeans. This goes doubly for the wireless world, where things like eSIM, free wireless trials (ahem) and other innovations are always popping up. So what worked for you when you first signed up may not be the best solution for you now.
3. Your current carrier doesn't provide the support you need
Maybe you find yourself shouting the f*!-word after every call to your carrier's customer service (and we didn't say fox). Now is a good time to start looking. There's plenty of fish in the wireless sea, including fish that have an actual-human Customer Care team available 7 days a week, super short wait times, a 24/7 Fox Bot and over 95%** of customers saying they're highly satisfied with their care. It's us. We're talking about us.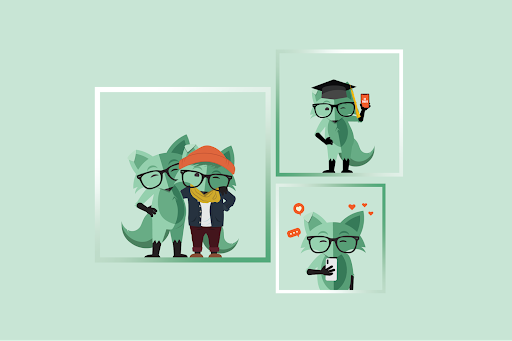 4. Your personal situation has changed
Maybe you got married and now you're ready for a 2-line phone plan. Maybe the wireless stork visited and you're ready for a family plan. Maybe you've had your 55th birthday and are ready to switch over to a senior phone plan (and start enjoying the bomb senior menu at IHOP). Or, hey, maybe you're flying solo and ready to spread your wings on a phone plan for one. If your family or personal situation has recently changed, that's a great time to take a look at new phone carriers.
Or maybe your job situation has changed and you're working from home with constant Wi-Fi access. If so, you might not need the monthly data amount you're currently paying for (check out more on Wi-Fi vs. Cellular Data). The same goes if you're traveling less (or more).
5. You've moved recently, or will be moving soon
If you're moving or have recently relocated, you'll want to double-check that you still have the network coverage you need in your new area. You might find that a new carrier will give you better coverage (and at less of an expense). Mint Mobile runs on the nation's largest 5G network, so y'know…that's an option.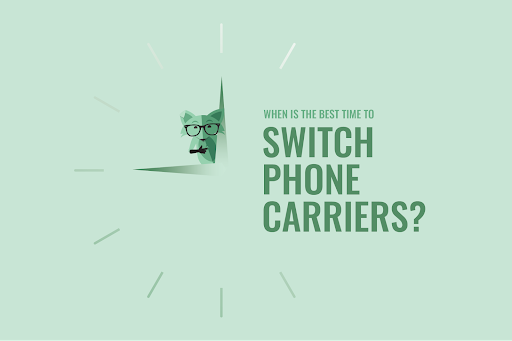 When is the best time to switch phone carriers?
There's a best time to switch depending on your billing cycle, as well as when you can get the best deal or promotion from the carrier you want to switch to.
1. Know when your current billing cycle begins
You don't want to pay two phone bills (or maybe you do…if so, skip ahead), but you also don't want to have a gap in your phone service either. So sometimes the best option is to allow for a little overlap between your old and new phone plans to make sure you don't have any interruptions. If you're in the middle of your billing cycle for your current phone carrier, it might be best to wait 4-7 days before your current plan renews before you make the switch.
If you're coming from big wireless, you know they love long-term contracts and monthly bills. You'll also want to consider whether they'll charge you an early termination fee, or if you're still paying off your phone on an installment plan. Big wireless often uses free phone deals to trap you into their service until you pay off the device, so when you finish paying off your phone is generally a great time to make the switch.
If you're switching to Mint Mobile, you can plan ahead and make sure you activate your service at the right time for you, because our SIM cards can be activated up to 45 days after the purchase date.
2. See if any deals are running
You might want to check if a carrier you're interested in has any current promotions for new customers, like device bundles or Mint's new customer offers that give you our best price on 3-month plans. But also make sure you know just how much you'll be paying when the free promo ends (or opt for a carrier like Mint, where bulk wireless savings is our bread and gigantic-tub-sized butter).
3. Check for seasonal deals
While wireless carriers run promotions throughout the year, it's a safe bet that around Black Friday, Cyber Monday or throughout December, carriers will be offering deals for the holiday season.
Getting ready to switch phone carriers
Before you start the process, take time to think about what you need from a new carrier. Here are a few things to consider:
1. Know how much data you actually use
Pop quiz: how much data do you use every month? If you don't know the answer, it might be a good time to take a look, whether you have iPhone or an Android. Knowing how much data you need is essential when thinking of switching phone carriers.
If you see anything that surprises you, like you use a pretty significant amount of GBs looking up archipelagos on Google Maps, streaming K-dramas on Netflix, or curating the perfect running playlist on Spotify, it might be time to take a look at switching to a different plan and carrier that offers a better price for the data plan you need. On the flip side, maybe you're using less than you think and a smaller plan would be just right for you. Either way, both are good reasons to take a look at your current activities and associated data usage.
2. Understand the coverage in your area
As we mentioned earlier, before you switch phone carriers, it's a good idea to check their coverage and make sure you'll be covered wherever you go. Especially if you've recently relocated and you're switching utilities anyways.
3. Make sure your phone is unlocked
Many phone carriers require an unlocked phone if you want to bring your own phone when you switch over.
4. Make sure your phone is compatible with your new service
Not all phones are compatible with all networks, so make sure and check if your phone is compatible before switching.
5. Ensure your photos, apps and other media are backed up
When switching carriers, your photos, apps and other data remain totally untouched, but it never hurts to back it up.
6. Don't cancel your current phone carrier until after you switch
That way you won't miss a moment of wireless. If you're moving multiple people, like a family plan, make sure the primary account holder switches last for that same reason. FYI, transferring your number will sometimes automatically cancel your old service (but make sure to triple-check). When you're ready to make the switch, our MINTech Advisors will be happy to help you cancel your service with your old carrier.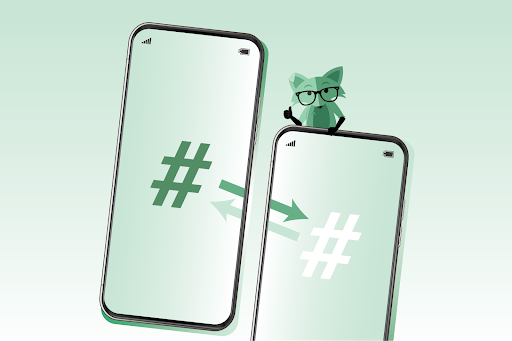 Can I keep my phone number if I switch carriers?
Yep, a lot of phone carriers allow you to keep your old phone number, including us. Cuz you should ditch overpriced wireless, not all of your group chats. Here's how to transfer your phone number over to Mint. TL;DR: you'll need your Account Number and PIN or Number Transfer PIN before you officially make the switch. If you're switching from Verizon or AT&T, we've also got special guides just for you.
Thinking of making the switch?
If you've thought hard about your situation and have decided now is the time to switch phone carriers, well, we're just a fox standing in front of a blog reader asking you to save on premium wireless. Check out our guide on switching to Mint and take our plan match quiz to discover your perfect plan soulmate.

Originally published September 2021; updated August 2023
*https://www.whistleout.com/CellPhones/Guides/mobile-overspending-report
**As of July 2023