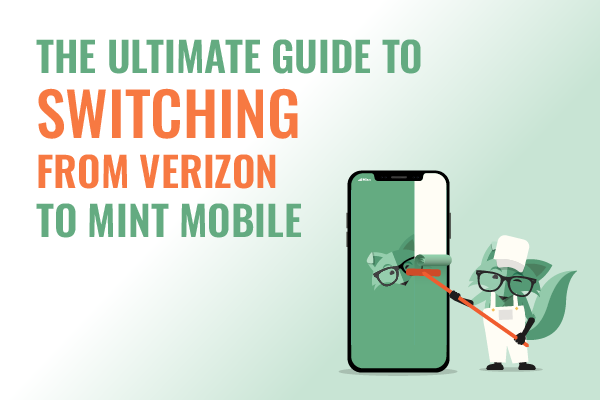 So you're ready to begin switching from Verizon to Mint Mobile. Love that for you. Obviously, we can't wait to have you join the Mint fam, so we put together this quick guide that covers the "why" and "how" for switching carriers from Verizon to Mint Mobile (because we've already determined that the "who, what and when" are you, switching to Mint and ASAP).
Why switch from Verizon to Mint Mobile?
As easy as it would be to say "take a look at your last Verizon bill" and be done with this section, we actually have several reasons why switching from Verizon to Mint Mobile is a great idea. Once you truly compare Mint Mobile vs Big Wireless, we're sure you'll see who the clear winner is.
New Customer Cost
Mint Mobile's plans start at just $15/month,* with our Unlimited Plan costing just $30/month.**
5G Coverage
Mint Mobile runs on the T-Mobile 5G Network, the nation's largest 5G network.† Our coverage map shows over 95% of Americans are covered by T-Mobile's 5G service, and over 99% of Americans are at least covered by T-Mobile's 4G LTE.
No Monthly Bills
Say bye-bye to monthly bills. Mint Mobile offers service in bulk, meaning you purchase 3, 6, or 12 months at a time.
Exceptional Customer Care
You hope you won't need customer service very often; but when you do, you want it to be great. Mint Mobile's Care Team has an average hold time under 90 seconds. Yeah, that's shorter than most commercial breaks. And over 95% of Mint subscribers who call our Care Team and respond to our post-call survey have given them a "Highly Satisfied" ranking.‡
Flexible Family Plan Options
Our Mint Family plan allows you to manage 2 – 5 lines of service, each with their own preferred data amount, giving you the flexibility to only pay for the data you need.
Freedom To Build Your Own Bundle
Verizon's recently unveiled two "myPlan" options, which lets you add The Disney Trio Basic, Apple Music, or hotspot data for an additional $10/mo each***. Mint's Unlimited Plan includes 10GB of hotspot and costs just $30/mo, less than half what their "Unlimited Welcome" plan costs before any "perks." With that savings, you can sign up for several streaming services of your choice and still be saving money over their myPlan options.
How do I switch from Verizon to Mint Mobile?
Whether you're wanting to make a clean break from Verizon (new phone, new number and maybe a new haircut to celebrate) or you want to keep your current phone and number (and maybe not risk messing with bangs just yet), switching to Mint Mobile is probably a lot easier than you think.
1.) Bring Your Own Phone (BYOP) or get a new one
If you want to bring your own phone to Mint Mobile, you just gotta make sure it's paid off, unlocked and compatible with our network. We've got a whole compatibility checker thingy that can help
If you want to get a new phone, either because your current one isn't compatible with our network or you're just in the mood for an upgrade, we offer all the latest & greatest smartphones with great deals when you bundle them with a Mint Mobile phone plan
2.) Bring your phone number or get a new one
If you want to bring your phone number with you (to avoid having to send a "this is my new number" text to everyone in your contact list), you can easily transfer your current number to Mint Mobile from Verizon during activation.
Make sure your Verizon account is still active until the number transfers over to Mint. If you cancel your Verizon account early, you could lose the number permanently; and if you're moving multiple lines over, make sure to move the primary account holder's number over last for the same reason.
You'll need your Verizon billing address (with ZIP code), account number and Number Transfer PIN to transfer the number over.
To find your account number, check the first page of your Verizon bill. Or, after logging into your Verizon online account, go to the main page. If you need assistance, contact Verizon at 800-837-4966.
If you want a new phone number, then all you need to do is provide us with your home ZIP code at activation so we can generate one based on it.
3.) Choose your plan
Browse our deals if you're looking for a new phone and a phone plan, or just check out our new customer offer if you're planning to bring your phone over from Verizon. It's all done here on the website, because we're able to help save you money by not having our own brick & mortar retail stores.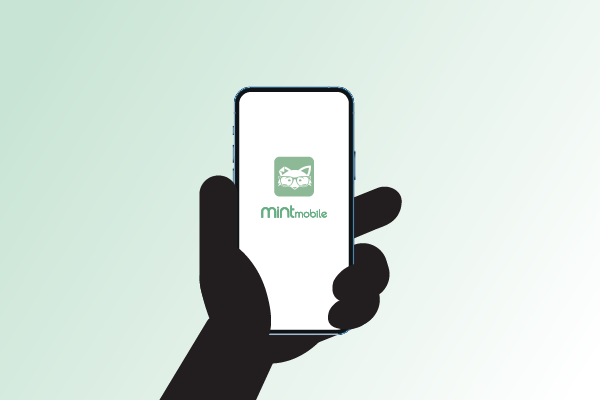 4.) Download the Mint Mobile app and activate your plan
We made it super easy to make the switch with the Mint Mobile app. Once you have your Mint Mobile SIM kit in hand, all you gotta do is download the app from the App Store or Google Play and follow the instructions. With the app you can choose to bring your number over from Verizon or get a new one, create your Mint Mobile account and build your Mint Family if you're bringing over multiple lines.
Also, once you've officially joined the movemint, the app will allow you to monitor your data usage, make any plan changes, and help you earn Mint Credit by rescuing other friends from Verizon via our Refer a Friend program.
We also offer Activation Support from our Mintech Advisors which includes full assistance activating your plan(s) and getting you transferred over from Verizon. We'll even jump on the phone with you to call Verizon and let them know you're canceling your service with them.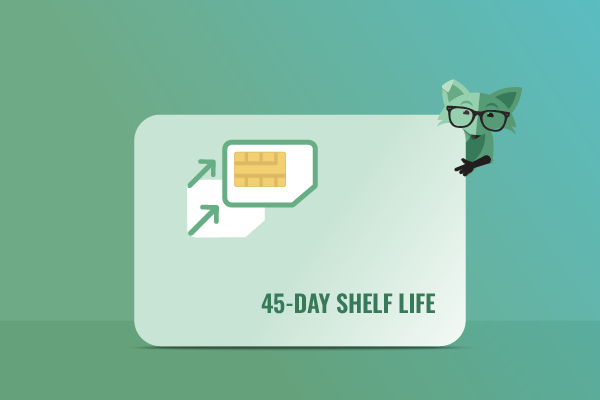 What if I'm still on a contract with Verizon?
If you're still locked in a contract with Verizon, you may want to wait it out to avoid paying an early termination fee. We get it, we're all about saving money too. But if the early termination fee is less than what you'll end up paying overtime by sticking with Verizon, then maybe it's time to cut and run now. This may also include paying off the balance on your phone so you can unlock it if you're planning on bringing it to Mint Mobile. And if your contract is almost up, you should know our SIM cards have a 45-day shelf life, meaning you can purchase a Mint Mobile plan now and wait up to 45 days to activate it.
Congratulations, you've now completed "Switching from Verizon to Mint Mobile" 101. There's no final exam and we don't have a certificate to give you or anything like that, but we do have savings. You've definitely earned those savings.

Originally published August 2022; Updated June 2023.
* New activation & upfront payment for 3-month plan req'd. Taxes & fees extra. Addt'l restrictions apply. See terms.
** Data speeds reduced during network congestion or after monthly allotment of 5G and/or 4G LTE access. Certain data-intensive activities including online gaming, file downloads/uploads, and video streaming, may be limited and/or inaccessible on network after 40GB on Unlimited Plan. Videos stream at ~480p.
†5G access req's capable device & SIM w/in appropriate coverage area. Actual availability, speed & coverage may vary.
‡As of July 2023
***As of 05/17/2023 for single line. Does not include $10/mo. AutoPay & Paper-free billing discount. Taxes & fees extra.