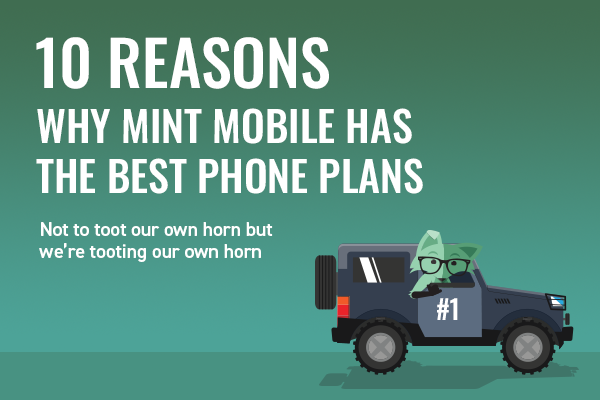 You might have heard about Mint Mobile because of our famous owner, but there's a lot more to us than that–like having the best phone plan on the market. If you've ever wondered "is Mint Mobile good?," you've come to the right place. We've compiled 10 reasons why Mint is home to the best phone plan; and it just so happens that none of them rely on our owner's awesomeness, which we do humbly brag about at dinner parties.
So let's get to the meat and potatoes of what makes ours the best cell phone plans.
1. We don't hate you
Unlike other phone carriers, everything we do is to help you save money on wireless. Even if you're already saving a ton with us, we're gonna try to save you more. Because it's the right thing to do. To see the proof in the pudding, check out these Mint Mobile reviews.
2. It's up to you how long your plan is
If you want a no-contract phone plan, we're the right phone carrier for you. What sets us apart from other carriers is we offer service in bulk: you choose your plan length from 3, 6, or 12 months. And just like purchasing toiletries in bulk at your favorite store, the more you buy, the more you save.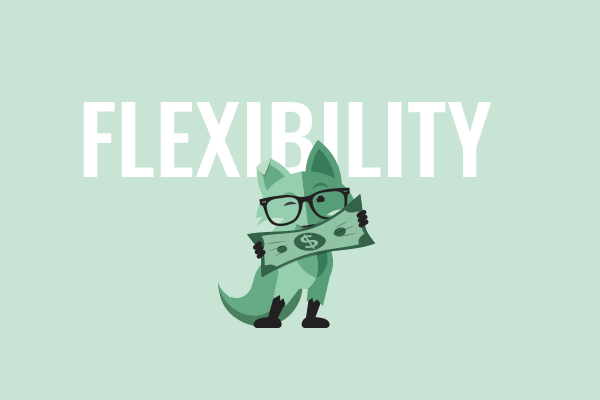 3. Our data plans are super flexible
Like, yoga teacher flexible. Most people don't use as much data as they think. That's why we offer four different high-speed data amounts to choose from, so you don't end up paying for more data than you need:
5GB Plan
15GB Plan
20GB Plan
Unlimited Plan*
And if you find yourself running low on data for the month, you can always add more.
4. We're extremely online…in a good way
We're a very online brand because that's what saves you money on phone services. By minimizing overhead and offering wireless in bulk (3, 6, 12-month plans) with flexible data options, we can pass more wireless savings onto you without sacrificing quality. No dedicated stores, no gimmicks, just the best phone plan ever for the best price. And definitely no ugly polo shirts or long lines, which brings us to our next point.
5. Our Care Team actually cares
Unlike a brick and mortar wireless store, we'll never make you wait in line for two hours to finally talk to someone who can help. In fact, our all-human, all-friendly Care Team is seriously amazing and waiting to answer all of your biggest wireless questions in under two minutes of wait time on average. Also, over 95% of Mint subscribers who call our Care Team and respond to our post-call survey have given them a "Highly Satisfied" ranking, so we've definitely got your back.
And if you want a little extra help, our team of MINTech Advisors can provide Premium Activation Support if you want everything from plan activation to transferring your number done for you.
We've also got a boatload of helpful resources for your exciting wireless journey to Mint, like our chatbot, blog articles, FAQ page, and helpful how-to videos if you're a DIY-er.
Basically…you won't have a problem getting help if you need it.
6. Stream the newest Ryan Reynolds movie anywhere with our awesome coverage
PSA: we run on the T-Mobile Network, aka the nation's largest 5G network that covers over 95% of Americans. Plus, the 4G LTE network connects you to 99% of Americans. So yes, the reliable, fast coverage you expect is gonna be there. And just to make sure, you can check our 5G coverage map (btw our 5G coverage is included in all of our plans and it's amazing). AT&T's? Not so much. Just saying.
7. You get all the usual features you expect (and some you don't)
All of our plans come with the features you need:
Unlimited talk & text
High-speed mobile data
Free 5G (depending on coverage and phone compatibility)
Free mobile hotspot (10GB cap on Unlimited)
Free calling to Mexico and Canada
8. We make switching phone carriers a breeze
It only takes a few minutes to switch your phone plan, and you can do so right in the Mint Mobile app. We even have helpful videos to walk you through everything. You just need your phone, a SIM (either physical or eSIM) and a couple bits of info from your current carrier if you want to bring your number over to Mint too. Those "couple bits" of info are:
Account number
Pin or passcode
Account billing address
Did we mention our team of MINTech Advisors? (We did, but it's worth mentioning again.) They provide Premium Activation Support if you aren't very tech-savvy and want everything from plan activation to transferring your number done for you.
You can bring your current phone or, if now feels like the time for an upgrade, we won't hold you back. Check out our phone deals.
BTW, if you're a victim of big wireless prices and are ready for a Mintervention, learn how to switch to Mint here.
9. You can try us out for free with no commitment (unlike most other phone carriers)
If you wanna dip your toe in before getting the whole Mintchilada, we have a free 7-day trial that works right on your phone without affecting your current service so you can try the best phone plan ever for yourself. Or you can take advantage of our New Customer Offer, which is 3 months of wireless at our lowest rate. Yes, that's like 83 days more than our trial, but it's still technically "giving us a try" in our opinion.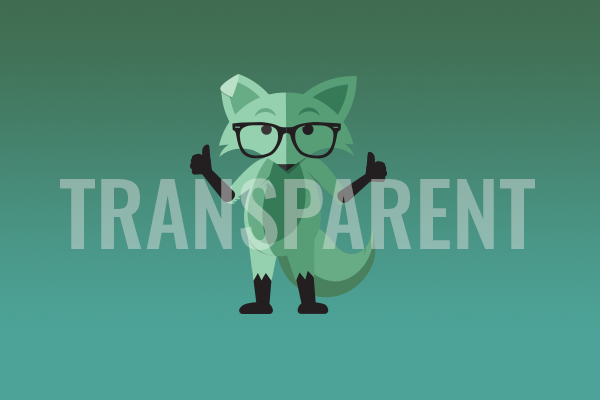 10. We're transparent AF (we said "as fox")
Unlike your ex, we're always transparent and promise to keep your best interest at heart in everything we do. Because at the end of the day, we're just a group of people who wanted to make a wireless plan that we would want to use (and we do). Learn more about real Mint employees getting real about data usage here.
So, that's pretty much it right there. If giving you the most savings possible with flexible data and plan duration options, excellent coverage and amazing customer care doesn't make Mint the home of the best phone plan ever, then we don't know what does.
Toodles.

*New activation & upfront payment for 3-month plan req'd. Taxes & fees extra. Addt'l restrictions apply. Unlimited customers using >40GB/mo will experience lower speeds. Videos stream at ~480p. See terms.